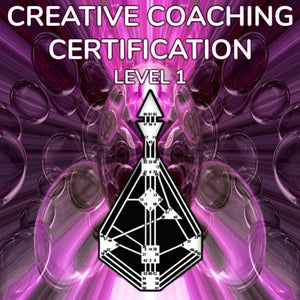 Creative Coaching Certification For Human Design Specialists (Level 1) DIY
Your Power Journey Begins as You Purchase Level 1!
This is the Level 1 DIY (do-it-yourself) process of learning how to read Human Design Charts.  
You will be given the basics of living your design, the Aura Types, how to understand how these operate, and how t read charts for other people.

Upon purchase, you will be given access to the LEVEL 1 Certification program immediately.  This includes both a module that details each step of the Human Design process and a recording of a live class.

This is a powerful, life-altering de-conditioning process that will change your life and the way you see everyone around you.  

This is also the beginning process to learn how to read charts, become a Human Design Professional and the beginning of becoming a certified Human Design Specialist. 

If you are interested in LEVEL 2 and beyond and/or prefer learning Level 1 LIVE, please contact us for more details, using our CONTACT US form.

PLEASE NOTE:  Although this LEVEL 1 course is a pre-requisite for eventual certification, many people only want the information and are not interested in certification. If you ARE insterested in certification, and want this class to be officially recognized towards your certification, please note that successful completion of an assigned LEVEL 1 project will be required, so that we can make sure you understand the material covered. 

Please be sure to read these guidelines (click HERE), if becoming certified is your aim.  If you are only interested in learning the material for your personal, non-professional use and benefit, then nothing further is needed, but to enjoy and be enriched by the material.
Please READ THE TERMS (click HERE) governing your use of Raquel and Davidian's classes. 
Creative coaching level 1
Absolutely amazing course so far! The only issue is for some reason I have the live class for the spleen and ajna twice; and no recording of the last class of the solar plexus.
this Course goes into depth! It gives you a solid foundation of each of the centers and information on the gates in each center. There are practical exercises to do in every day life to sexperiment with how others with a defined/undefined center may work when you have the opposite. It's truly incredible to see these things pop up throughout my day, working with individuals and having these aha moments all the time!! I have to admit, at first, I was a little hesitant only because I thought I already knew the centers, and wanted to get further into the circuitry. No. That was bigotry Mindchatter of mine! This course is a must for the foundation of learning this Intel with integrity! I love it, I love Raquel for bringing this to the world in her unique way and covering all ground to move forward! I'm so excited to continue, and to do my recorded session at the end!
Thank you for the great review. The video glitch has now been corrected. Thanks for bringing it to our attention. We are so honored to guide you through your Human Design journey and congratulations for being willing to go so deep!
Very insightful!!
Raquel and Davidian are Human Design Gurus!!! Raquel has been incredibly supportive of my journey knowing myself though human design. You can tell she cares deeply about her clients and wants the best for them always! You can just feel the love when you are in her presence.
The level 1 coaching certification is a fantastic course where you not only learn so much about human design but you get to decondition as you go so you know yourself and heal on a deeply level.
Highly highly recommend to anyone who is curious about Hunan design and would like to become qualified! Its amazing!!
Highly Recommend this Training to INVEST in your NEW SELF..
This training is totally worth the money. The investment is really INVESTING IN YOUR NEW SELF!!! (the Divine Design you might not know yet).. I struggled learning HD since 2011 off and on by myself and paid for a few classes, and I wasted a lot of time, not really understanding how to read a chart, know my strategy, work with my Aura, and how to live differently. Level one gave me the ability to read charts, come to know myself deeply, and start a de-conditioning process to actually live this new journey. It helped in all areas like career, business, relationships, family. Raquel and Davidian break down the material with ease, and their level of support is solid. I hope my review helps you in your journey, your worth it.
Wonderful Certification Program - Even Better Than Expected!
Out of all the Human Design teachers out there, I'm so glad that I chose to study the Creative Coaching Certification with Raquel and Davidian! Everything is broken down in a way that I was able to understand and really integrate the information in a way I wasn't able to while studying on my own. The information about my type helped me to gain more insight into how my Strategy and Authority operate in a deeper way. My understanding of all the types is so much deeper. I am so happy I chose to study this certification! I highly recommend it to anyone looking to learn more about Human Design with wonderful teachers!
---
We Also Recommend