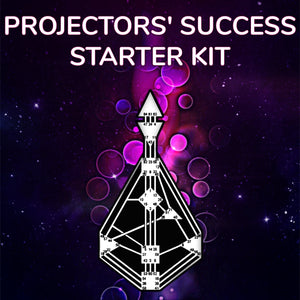 Projectors' Success Starter Kit
Are you a Projector or maybe you know one in your household, family, or inner friend circle?  If so, this is for you!  

First off, if you have found this page, you presumably understand that being a Projector can be SUPER INTENSE… and arguably the most challenging Aura Type in all of Human Design.  

With that said, Human Design is the only teaching that explains this Aura Type and helps us get through it, so that we may travel much lighter through life.

I suffered through so much of my life, before I understood that I was a Projector and how I was getting in my own way of achieving the SENSE-FELT Success I was seeing others enjoying.

Sure, I had some wins, but they were all tainted by burn-out, injury, people stealing my ideas or taking credit for my work, and so on… And that brought forth so much BITTERNESS seeing how much easier things were for those mostly Generators around me.

Yes, we Projectors we do whine a bit (LOL), but that's because no one really understands what it's like to be US.  

In the same way that you can only get so far in communicating the pain of child birth to a man, you can only get so far in communicating the energy restrictions, idea thievery, and painful invisibility of being a Projector to non-Projectors.

There are very powerful survival fears about not being able to keep up the pace, pay our bills, or having to endure 9-5 jobs or even worse OVERTIME!

Generators and Manifestors scoff, because they will never understand our plight, but this is legit terrifying!

So Projectors, we understand, we see you and we're going to support your exploration of your Human Design through the Projector lens.  

Now, there may be some bias here, but we truly believe that unless you are learning this from another Projector, like myself, who models her first-hand awareness on how it operates within me, then you may miss the depth of how it operates in REALTIME. 

Davidian as my full-time biz and life partner, also contributes from his perspective and as you may know, Davidian has a pretty unique way of communicating his mutative insights.


THIS KIT WILL INCLUDE

:
 Videos on how to start the experiment
 What it means to be a Projector and how to reach SUCCESS in any field
 A meditation to align your trajectory towards RECOGNITION and awakening as the genius you were born to be
Specific Projector-specific questions to contemplate and MORE!


THE STARTER KIT INCLUDES 3 RECORDED CLASSES + THE FOLLOWING:
As you know, with each passing each minute, we get closer and closer to 2027 (and the subsequent 411 years) … when Projectors are meant to lead.  But how?  

This is the $64,000 question that we will be looking at and helping YOU answer with this package…as well as provide you with personal support (via email or our social media) to answer any questions that may arise, after your experience this TRANSFORMATIVE material!
No matter where you are on your journey of discovering your Human Design, whether you are new to your Projector path or have been experimenting for quite a while now - THIS WILL HELP!

Being a Projector is no walk in the park, and our World needs you NOW more than ever and will need you even more tomorrow…so your understanding how you, as a Projector, operate, is essential and we're here to support you!
Please click here to READ THE TERMS governing your use of Raquel and Davidian's classes.
A Must Have for Projectors
Growing up in the current Generator world can be hell on Earth for Projectors. We are raised and conditioned to work, work, work and hustle, hustle, hustle to get anywhere and then we are shamed and called lazy when we can't keep up. When I found Raquel and Davidian 4 years ago and learned that I was a Projector, I cried. It resonated so deeply and lifted decades of guilt and shame off my shoulders. It took a while for me to truly believe that there is a reason why I couldn't keep up energetically with everyone else.
The Projectors Success Starter Kit is a definite must have to learn your design and how to navigate the Generator world. Raquel does a fantastic job of hitting all of your biggest pain points and shares her immense knowledge with compassion, humor, and love. Every video and lesson module will have you shouting with joy that finally somebody somewhere sees who you truly are and is able to guide you out of your bitterness and into success.
If I could give this course 10 stars, I would. That's how important it is to Projectors everywhere and I can't recommend it highly enough.
Perfect Timing
Many programs out there put pressure on you to buy their modules or lessons.
Raquel is keenly in tune to the projector type (all types as well) because she is a Projector. She told me to sleep on it knowing I am an Emotional Projector.
She practices what she teaches!
The "Projectors Success Kit" exemplifies our signature —-Success!
I've learned that true Success is being recognized & invited for my specific gifts, character — my genius within how my unique energy channels operate.
This has allowed me to choose which invitation to accept. The correct invitations enable me to have energy to do what I was MEANT for!!
🌟 Success to me is thriving in a broken system, having freedom to be the true me, making a sustainable income, not feeling guilt when I rest / love on myself and trusting my Strategy & Authority!
This has been a major breakthrough for me during such a turbulent time in my life.
I feel very supported and cared for with not only Raquel and Davidian but with the beautiful projectors I've connected with in the class!
They also provide extra support in a private FB teaching space.
I also relate to their creativity of expression!
I could go on and on!
So so so grateful you are being the TRUE 2 YOU which ripples out to us!!
Waves of Love and Success!
💛Amy✨
Shockingly accurate!
I'm very new to Human Design, although I've studied Vedic and Greek Astrology for decades. What I've been learning from Raquel is spot on. It was nice to nice to be in a group with other Projectors who can relate to my experiences. Raquel made the whole experience fun and interactive. This program has tremendous value!
amazing immersion and infusion of HD wisdom
Raquel I can't thank you enough for your own unique style of teaching that seems to somehow infuse me with the knowing that is so much greater than it may initially seem.
I have been on this HD journey for about 18 months now, but during the Projector Success Kit so many things have become clear and fallen into place during my journey through the videos and the sessions. Being able to ask specific questions over the duration of the course has been amazing! I truly felt like my questions mattered.
The level of support was just incredible.
I love the videos and the way they covey information in a multi sensory way to get it to all the places that are receiving it.
I finally feel a if I am congruent with Human Design and its teachings and not fighting or resisting aspects of it.
Thank you both so much
Truly One of a Kind and Inspiring!
I am so grateful to have found this Projectors Success Starter Kit, and Raquel & Davidian!! Their approach to Human Design is truly unique and inspiring. Raquel explains the intel in a clear, practical, and vibrant way. The journey for me so far, has been incredible! I have been receiving so many downloads and "aha's" from the intel. And also from really slowing down and honoring my own energy, the energy of others, and my process. I LOVE the Projector Success Meditation!! I listen to it almost every morning.😊 Thank you so much Raquel & Davidian for creating this one of a kind, amazing program!
---
We Also Recommend